Enter the sign-up code during user registration.
★Sign-up code: 140
* Only available for registered app users.
* Available for immediate use on your next purchase.
Notifications Regarding the Use of This App
* The Daimaru Matsuzakaya Mobile App can currently be downloaded from app stores in the following countries/regions (primarily Oceanian and Asian countries including Japan).
China, Indonesia, Australia, Singapore, Thailand, South Korea, Taiwan, Philippines, Vietnam, Hong Kong, and Malaysia* You will not receive any points when you use a special 5% discount coupon.* The 5% discount coupon that is distributed beforehand via travel agencies or other such organizations cannot be used in conjunction with the Daimaru Matsuzakaya Mobile App.* The Daimaru Matsuzakaya Mobile App and various Chinese payment systems (Alipay, WeChat Pay, UnionPay card) cannot be used together at the food product sales areas, restaurants, and cafes of each store, as well as at some sales areas, such as the cosmetics sales area and South Building souvenir shops of Daimaru Shinsaibashi, and the cosmetics sales area (1st floor and 8th floor) of Daimaru Sapporo.
1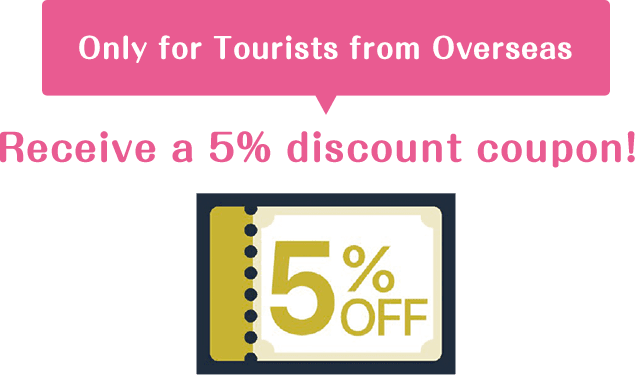 * This coupon cannot be used with certain shops or products.
2

Collect, check and use points!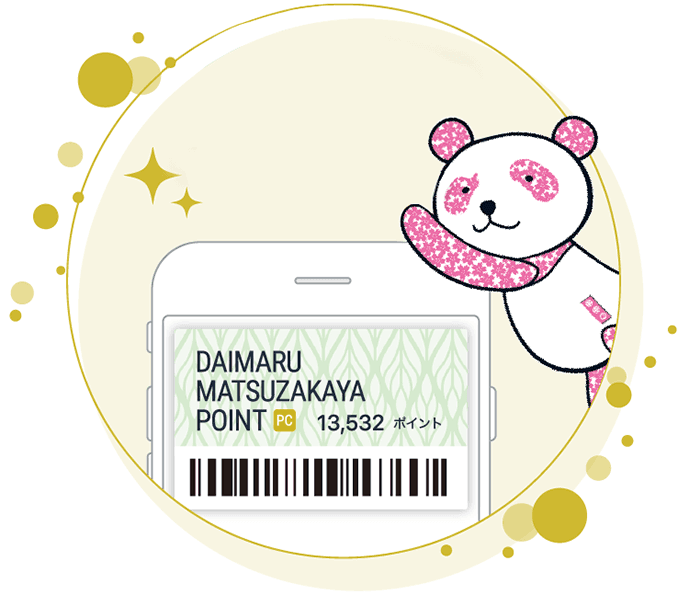 When shopping at Daimaru Matsuzakaya Department Stores, you can earn points and use them toward purchases. You can also check your point balance anytime.
Receive points every time you shop at Daimaru Matsuzakaya!

You earn 1 point for every ¥100 (excluding tax) spent
* Show the home screen (with the app open) to the clerk when paying.* Points are not awarded or usable for certain products and services.
Points may be exchanged for yen at a rate of 1 point per ¥1.
* You must complete app user registration to use points.
3

Enjoy special services and rewards only available to app members!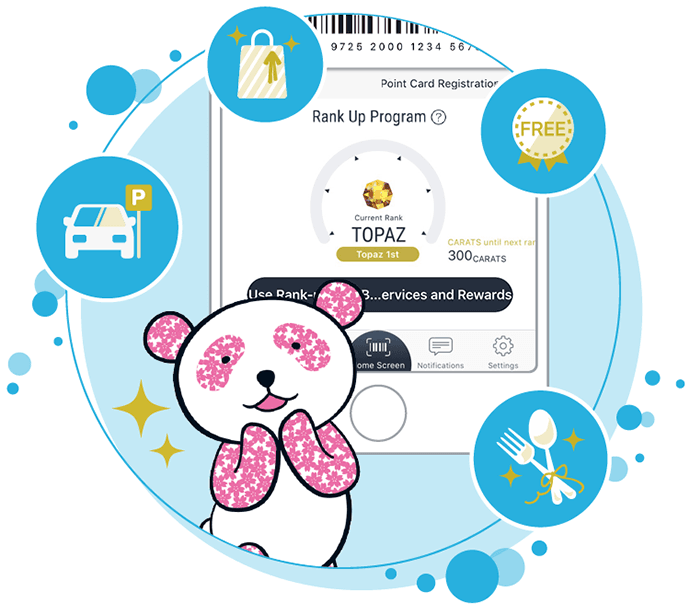 Shop, check in and perform other such actions at Daimaru Matsuzakaya to earn "CARATS."
Accumulate CARATS to move up in rank, which entitles you to additional bonus services and rewards.
* CARATS are not equivalent to points and cannot be used toward purchase discounts.
Accumulate CARATS to Rank Up
Your gemstone rank will increase as you collect CARATS.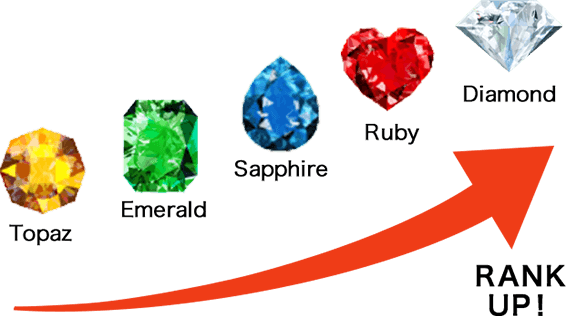 Rank-based Services/Rewards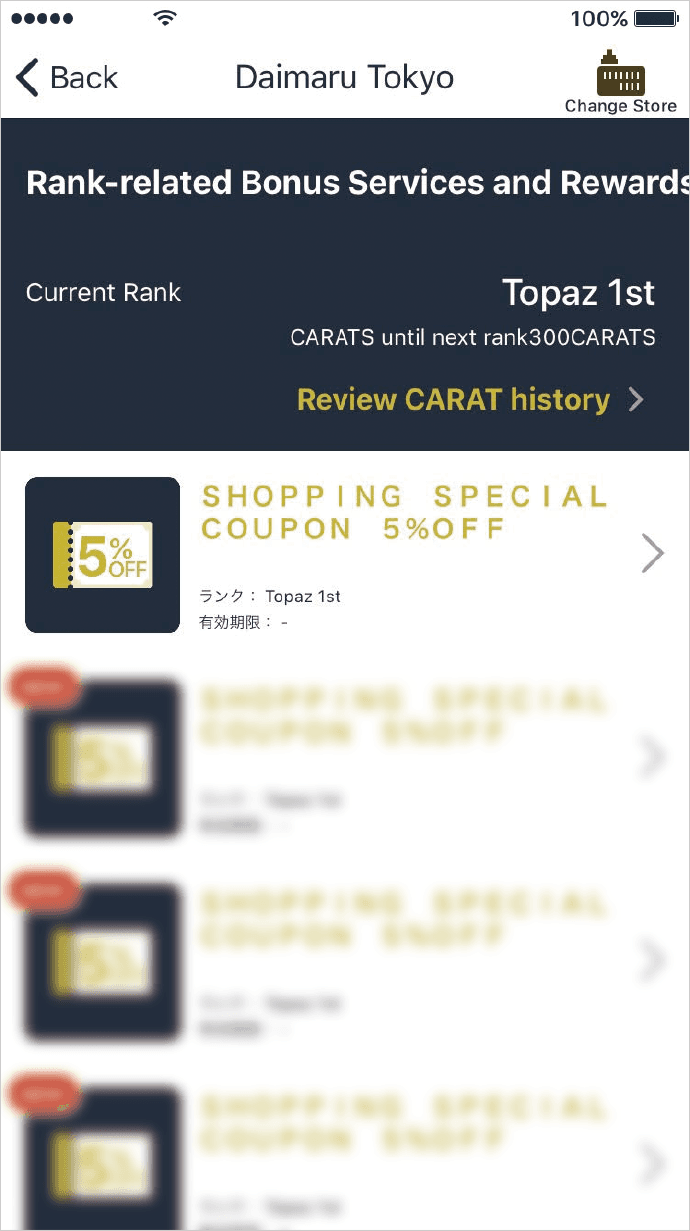 Acquiring CARATS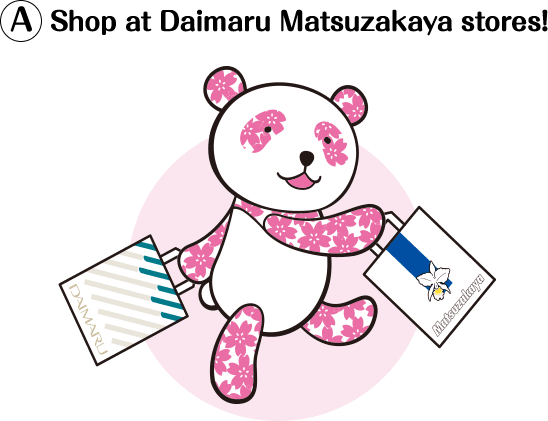 CARATS equivalent to 10% of the amount spent (before tax)
Show the home screen (with the app open) when making a purchase at a Daimaru Matsuzakaya store.
* CARATS are not awarded for certain products and services.
5 CARATS per check-in (only once per day at each store)
Launch the app inside a Daimaru Matsuzakaya store and tap "Check In".
* Enable use of device location information for the app.
4

Get the latest info through the app!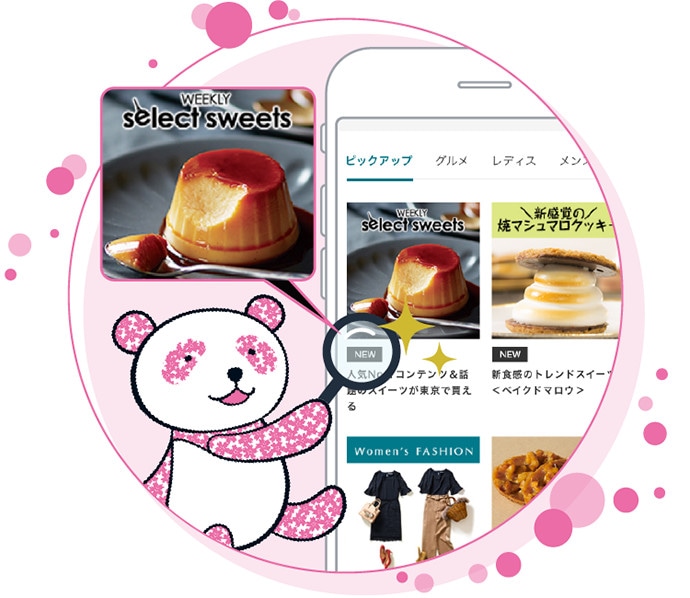 The app provides a convenient way to check useful information on and notifications from Daimaru Matsuzakaya stores.
Store Information
View Daimaru Matsuzakaya event information, special features, floor guides and more.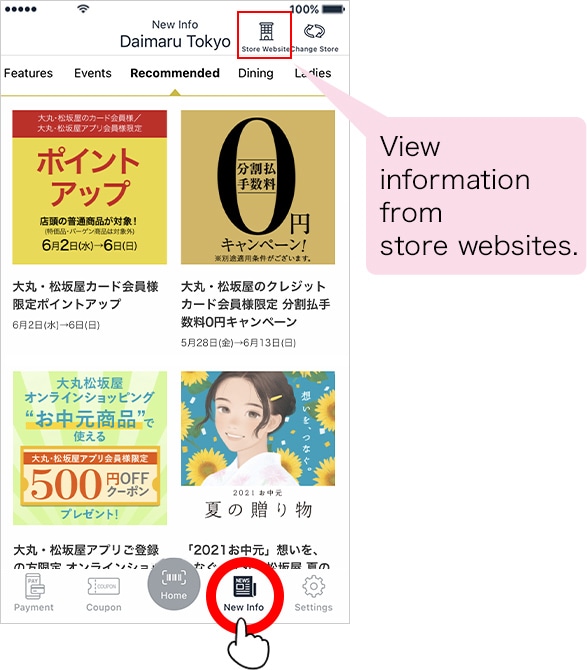 Notifications
This section provides the latest information on great deals and more at Daimaru Matsuzakaya stores.
Overview of Daimaru Matsuzakaya Mobile App Features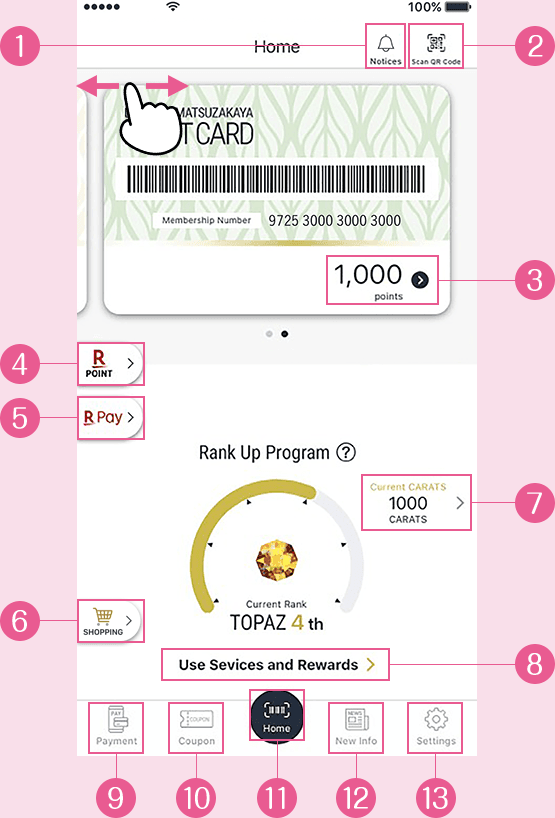 Check registered user information, change settings for stores that provide notifications, and confirm and change other such details.
QR codes for each campaign, etc. can be scanned.
Display your current point balance. You can also show this screen to receive and use points when shopping (credit card points can only be displayed).

* Swipe on the card screen to display and check other cards.

Check points, expiration date (points) and other details for each registered card.
Register your card with the app.
Link with Rakuten points.
Check your CARAT receipt history and other CARAT-related details.
View a list of available rank-based services and rewards. You can also move to the services/rewards usage screen from this section.
View websites for the stores.
Return to the app's home screen.
Check useful information on Daimaru Matsuzakaya along with notifications and more.
Recommended OS for the Daimaru Matsuzakaya Mobile App
iOS 11 / Android OS 5.0 or higher (app may not work properly on some devices)
* The Daimaru Matsuzakaya Mobile App was designed specifically for smartphones. This app is not intended for use on computers or tablets. * Screenshots may not match on-screen content. * Actual app content may differ.
"iPhone" and "iPod touch" are trademarks of Apple Inc. in the United States and other countries. "App Store" is a service mark of Apple Inc. "Android" is a trademark of Google LLC and "Google Play" is a registered trademark of Google LLC.